Audio & Video Conferencing Solutions(Board Room)
AUDIO CONFERENCING PRODUCTS
Panasonic Audio Conference KX-NT 700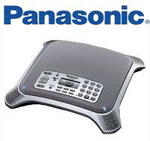 Panasonic
Audio Conference
KX-NT 700
Panasonic IP Conference Speakerphone with SD card slot for recording, analog telephone line (PSTN), TCP/IP (peer to peer), TDE/NCP-SIP extension only, cordless phone connectivity with optional 2.5mm audio cable, Power over Ethernet (PoE), and netcam integration (v2)*.
High definition voice quality
The KX-NT700 uses a wideband speech codec to deliver high definition sound quality. This ensures that multiple users can engage in a conversation without compromising voice quality and delivers crystal clear sound giving your conferences an intimate, face-to-face feeling. Real-time slow-talk
A Panasonic exclusive! This ingenious feature allows you to easily understand a fast talker by slowing down spoken words while shortening the silent intervals between them. Avoids wasted time caused by asking conference participants to repeat themselves.
SD card recording
Here's an easy way to record and review completed meetings. The KX-NT700 features an SD card slot so you can easily record your conferences to an SD card and play them back on a PC at your convenience. 2GB SD card will record up to 67 hours of conference time!
Noise reduction
The KX-NT700 employs noise reduction technology which helps reduce ambient noise such as projector fans, ceiling music or nearby traffic so you hear the conversation not the noise
Polycom Audio Conference - Polycom Sound Station 2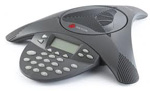 Polycom
Sound Station 2
Audio Conference
Features and Benefits
Patented Polycom Acoustic Clarity technology delivers remarkable voice quality and natural, free flowing conversations to make your voice conference calls more productive and enjoyable
Unlike a deskset speakerphone, a true conference phone such as the SoundStation2 is designed for group communications, which is critical in today's global business environment
Up to 10-feet (3.5-meter) of 360-degree microphone coverage, ideal for small to midsize conference rooms. EX model can add optional expansion microphones for even greater pickup range
Resists interference from mobile phones and other wireless devices while delivering clear voice conferencing with no distractions
Applications Port connects to mobile phones for dialing from rooms without an analog phone line, and connects to a PC to become a high-quality conference phone for Internet calling*
As easy to set up and use as any standard telephone, with no technical knowledge required
Supports traditional telephone features such as redial, mute, transfer, and hold. * Not available on all models.
Available SoundStation2 models are :
SoundStation2TM (non-expandable, without LCD display)
SoundStation2TM (non-expandable, with LCD display)
SoundStation2TM EX (expandable, with LCD display)
VIDEO CONFERENCING PRODUCTS
Panasonic Video Conference - KX-VC 600 / KX-VC 300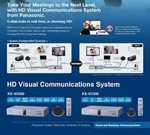 Panasonic
Video Conferencing
KX-VC 600 / KX-VC 300
High Image Quality
Panasonic's original high image quality technology achieves a dynamic level of realism that makes you feel like you're all in the same room. High Sound Quality
Conversations are comfortable thanks to our Echo Canceller that prevents sound interruptions when people speak simultaneously.
Stable Connection
Image disruptions and sound interruptions are prevented even on the Internet thanks to original AV-QoS technology.
Computer Connection/Sub-Camera Connection
Effective communication is possible while showing the other party a PC screen or sub-camera image.
PTZ Camera Control with the Enclosed Remote
When a special camera is connected, the HD Visual Communications System remote can be used to control pan, tilt, zoom and preset recall* operations for both your camera and the camera at another party's site. * Preset registration for your site (not during communication) only.
External Control Interface
A disclosed external device interface allows control over the network from an external device other than the remote.